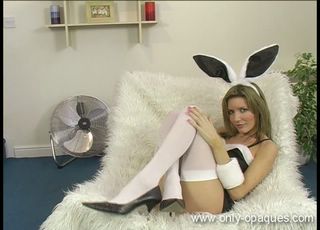 Who's in a naughty mood today? Today at Only-Opaques, we have a video of Nicole dressed as a very sexy bunny girl.
Nicole completes the outfit with sexy white hold up stockings. I know many women like to dress up in the bunny girl outfit for Halloween but I'm sure many of you men wouldn't mind coming home and seeing a hottie like Nicole in that costume anytime of the year.
Boys please bare with me today. I'm sleepy and dragging through the day. The folks below me we were up late making a lot of noise and keeping me awake. Than at four in the morning, they were back up making just as much noise as they left to catch their flight. It's a safe guess they're going on Holiday somewhere. There usually nice people but they must have been having some going away party last night and at this point with my head pounding I hope they never come back.